Dining at The Clubhouse
___________________________________________________________________________________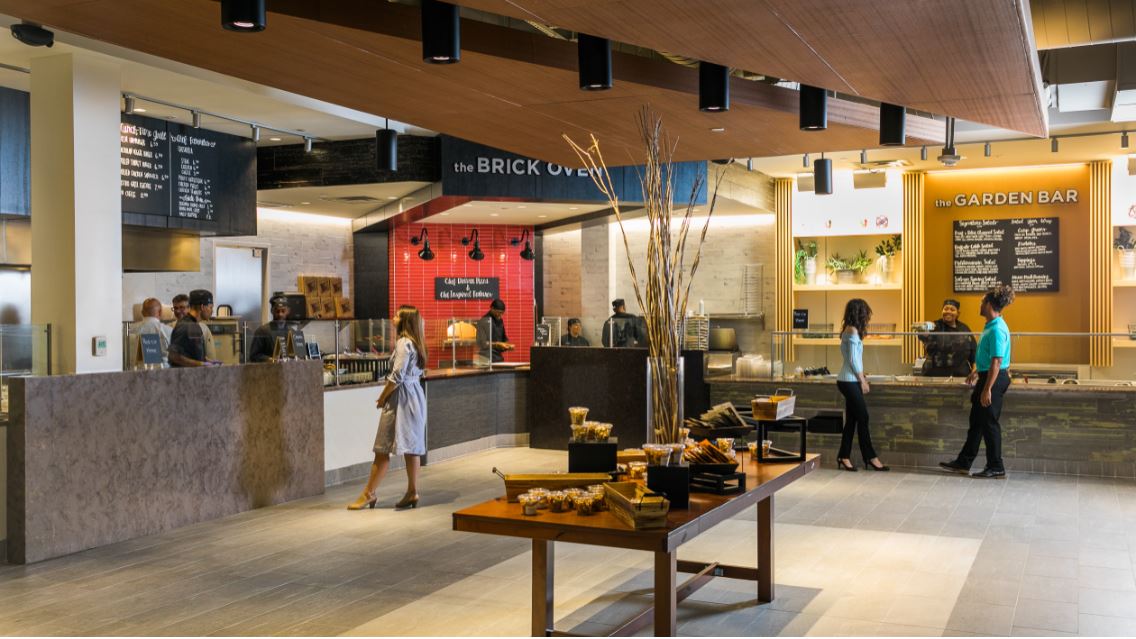 The Market is Sanctuary's chef inspired cafe located at the top level of The Clubhouse. 
Food Stations 
The Brew Bar - 
Serving a variety of smoothies and made to order coffee and espresso beverages
The Deli - 
Featuring a variety of handcrafted hot and cold sandwiches 
The Garden Bar -  
Farm-to-fork salad bar with signature specialties or build-your-own 
The Skillet - 
A rotating selection of chef-inspired daily entrees
The Brick Over -  
Featuring a variety of classic flatbreads and personal pizzas 
Hours of Operation
Main Cafe including The Deli, The Garden Bar, The Skillet & The Brick Oven:
Breakfast - 7:30am-10am
Lunch- 11am-2:30pm

Brew Bar: 
7:30am-4pm  
Catering:
Requests for catering can be placed with The Market's General Manager,
Richard Bottini, by email (RBottini@metzcorp.com)
 or
by phone, 813.956.5225.
The Market can provide full catering for all your meeting and event needs - from boxed lunches to formal party offerings. Please click here for more information about The Market and the Catering Menu. 
Park Info
Sanctuary is a Class A 150-acre master planned suburban office development located 20 miles north of Atlanta. RPO Property Management provides on-site management and development services. Located in the heart of Alpharetta, Sanctuary offers convenient access to 400, as well as numerous hotels, restaurants, entertainment venues, and banks. Sanctuary is only minutes away from the area's two most popular shopping destinations: Avalon and North Point Mall.

​The master plan proposes thirteen buildings. Sanctuary benefits from extensive landscaping around each building and along the private, gated parkway. With an eye on environmental stewardship and wildlife habitat protection, natural features of the property have been incorporated into the site plan including a six acre lake, wetlands, specimen trees, and abundant native plantings. Each building's design echoes this theme by blending wood, stone, and metal to create distinctive architectural features throughout. 

Nestled in a unique natural setting, the park is the premier address in the area and attracts an elite roster of distinguished tenants. In addition to enjoying a comfortable work environment, tenants at Sanctuary can get a quick workout in the private fitness centers, grab lunch at any of the three cafes, attend a meeting in the executive conference centers, take a private call outside by the waterfall, and unwind with their colleagues at the end of the day with a game at the softball field.  Sanctuary is the perfect blend of work and play.
Site Plan/Signage
Standard Mail Services
The Sanctuary Park mail rooms are located on the first floors of the buildings.  Mailboxes will be supplied for each tenant.  Mail will be delivered to these boxes daily.   Mail delivery and pick up occurs daily at each building Monday through Saturday. If you lose your key for your assigned mail box, you must contact the United States Postal Service. The mail boxes are not controlled by Sanctuary Park. There is not a USPS package drop-box on-site. You must go to a USPS location to drop off items larger than an envelope.

For additional questions regarding mail delivery please contact the United States Postal Service:
2400 OLD MILTON PKWY
ALPHARETTA, GA 30009-9998
770-442-3893
Overnight Delivery Services
Overnight delivery service drop boxes are located in the mail rooms or loading docks of most buildings.  See drop boxes for pickup times. Sanctuary Park offers drop boxes with FedEx and UPS. Not all buildings will have both providers.